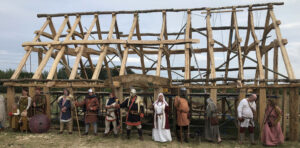 An Anglo-Saxon Hall reconstruction, built on the site of the original.
A few years ago, in Oxfordshire, UK, archaeological traces of an unusually large and high-status Anglo-Saxon hall were discovered on land owned by the Sylva Foundation, a charitable organisation concerned with woodlands and dedicated to research, education, and practical forestry for the future and the sustainable use of timber.
Set in the centre of a newly-planted mixed woodland of tree species from around the world, the site was fully investigated and re-covered.
The Sylva Foundation wanted a fully authentic building on the site and approached the Carpenters' Fellowship to help realise this exciting ambition.
The project was undertaken in 3 phases:
Phase 1: October 12th to 14th, 2018
A three-day course, during which samples were made of all the typical built components.
This included:
Timber conversion - cleaving and hewing timbers into shape for posts and plates (no saws were used in the Anglo-Saxon period)
Earthfast anchoring of the posts
Axe carpentry - The shaping of stubby tusk tenons and through-mortises, grooving boards, fashioning halvings and lap joints
Shaping the characteristic Saxon "treenails", a peg with an enlarged head, often wedged internally
Creating wattle panels and hurdles, for the walls and the roof underthatch respectively
Phase 2: March 25th to 30th 2019
A week-long event continuing the themes above, but in this case focussed on timber conversion.
The timbers were selected and delivered from the Blenheim Estate nearby.
This offered an unusual opportunity to understand and become familiar with skills involved in hand conversion from tree trunk and branch, to useful timber components.
In addition to this being a full body work-out, there is no better way to intimately understand the nature of the material we use.
Participants
Assessed each piece's suitability for a particular role in the building
Cleft large timbers using hammers, wedges and levers
Hewed timbers to flatten faces using side axes
Took part in other related activities using the waste for hurdles, treenails, etc.
Phase 3: 3rd June to 8th June 2019
A final week-long event, culminating in the full erection of the building's timber frame.
Setting the earthfast posts
Cutting tusk tenons and through-mortises
Laying up and framing roof trusses (all by axe)
Fitting plates over posts
Rearing trusses, lifting beams, fitting purlins
Pegging up
This event offered the full range of Anglo-Saxon carpentry techniques as well as associated activities such as wattling.
Each event was led by CF members with expertise in these areas and they were on-hand throughout to offer advice, technical guidance, history and general encouragement.
For more information, visit the Sylva Foundation website: https://sylva.org.uk/wessex